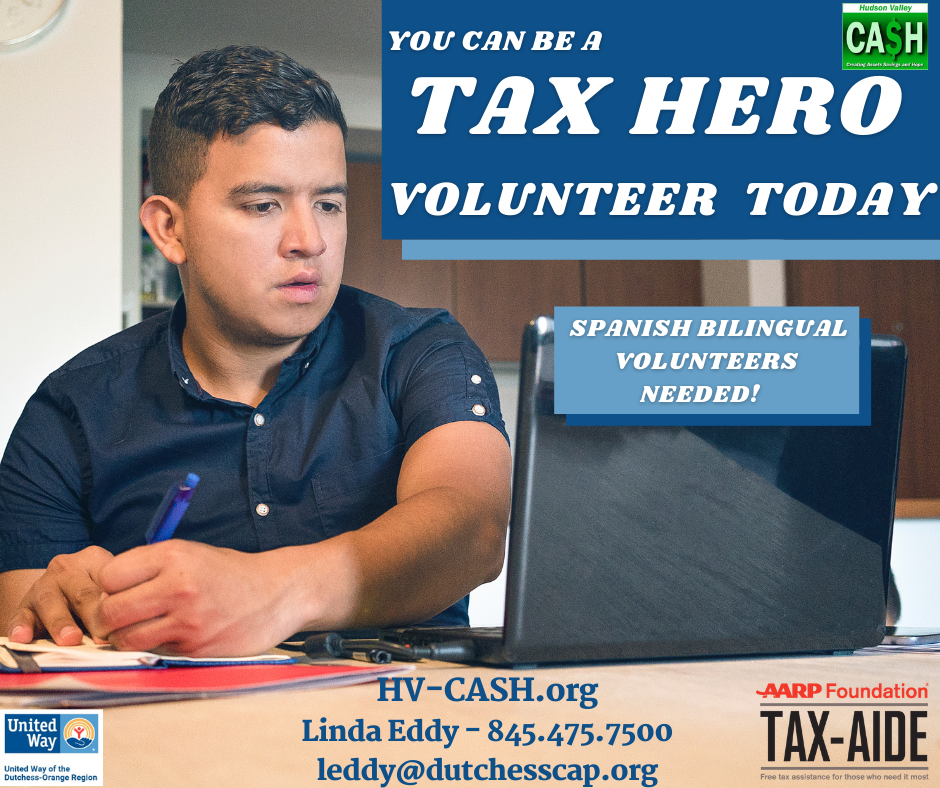 Help your neighbors receive free, reliable tax preparation assistance and all the refunds and credits available to them.  The Hudson Valley CASH Coalition, Community Action Partnership for Dutchess County and AARP Foundation Tax-Aide program are looking for volunteers in Dutchess, Orange, and Putnam Counties to become certified tax counselors.  If you have prepared personal income taxes in the past and are looking for a rewarding way to use these skills, consider volunteering.  
As a volunteer tax counselor, you will review client's documentation, interview clients, and prepare federal and state income returns using computer software.  Free training is provided ending with an IRS certification and remote volunteer options available.  Volunteers get a great deal of satisfaction from helping people get the refunds and credits they may not have known about.  Last season over 5,400 returns were filed at more than 40 tax sites throughout the Hudson Valley. Volunteers must commit to at least four hours once a week with remote opportunities available.  Tax sites open in February 2021 through April 2021 and likely located near your town. 
Other volunteer opportunities include client facilitators, program promotion, IT support and appointment confirmation callers. Special call for volunteers who are bilingual. Increase your own talents while helping your local community.  
For more information contact Linda Eddy, at 845-475-7500 or e-mail: leddy@dutchesscap.org
Hudson Valley CASH Coalition and AARP Foundation Tax-Aide programs of Putnam, Dutchess and Orange Counties are evaluating the current COVID-19 spread and restrictions, we will be determining the feasibility of program delivery for the upcoming tax preparation season. The safety and security of both the volunteers as well as our community continues to be a priority.  We expect to announce operational plans by late-January.