THANK YOU TO OUR PRESENTING SPONSORS!
Thanks To Our Presenting Sponsors
It's Putt Fore ACTION time 2023! 
Putt Fore ACTION is a Mini Golf tournament to benefit the important work of
Community Action Partnership for Dutchess County. 
Putt Fore ACTION will be held on FRIDAY, SEPTEMBER 22nd at
DC Sports
in Wappingers Falls.
We are seeking sponsors to support the distinctive and important work of Community Action Partnership. Please consider the opportunities outlined in the below tournament brochure or you can visit our event website at http://PuttForeACTION.org to learn more.
CAPDC remains committed to helping people and changing lives.  Our tools are as diverse as the needs of our neighbors. You may not realize the numerous ways we partner with families and the community to empower individuals.
Homes & Apartments Weatherized
Emergency Fuel & Food Pantries
Free Tax Preparation
Interview & Employment Attire
Prescription Payment Assistance
Emergency Housing Assistance
Health Insurance Access
SNAP & HEAP Application Assistance
Family Budgeting
Family Development Goal Planning
Interview Preparation & Job Training & MORE    
We are there for our vulnerable neighbors, assisting them to move from poverty to self-sufficiency, reduce dependence on public support, and address critical gaps.  By linking families to community resources, providing employment support, advocacy, and identifying safe affordable housing, we are moving families and individuals from crisis to opportunity.
On behalf of your Dutchess County neighbors in need, thank you for considering supporting our annual fundraiser!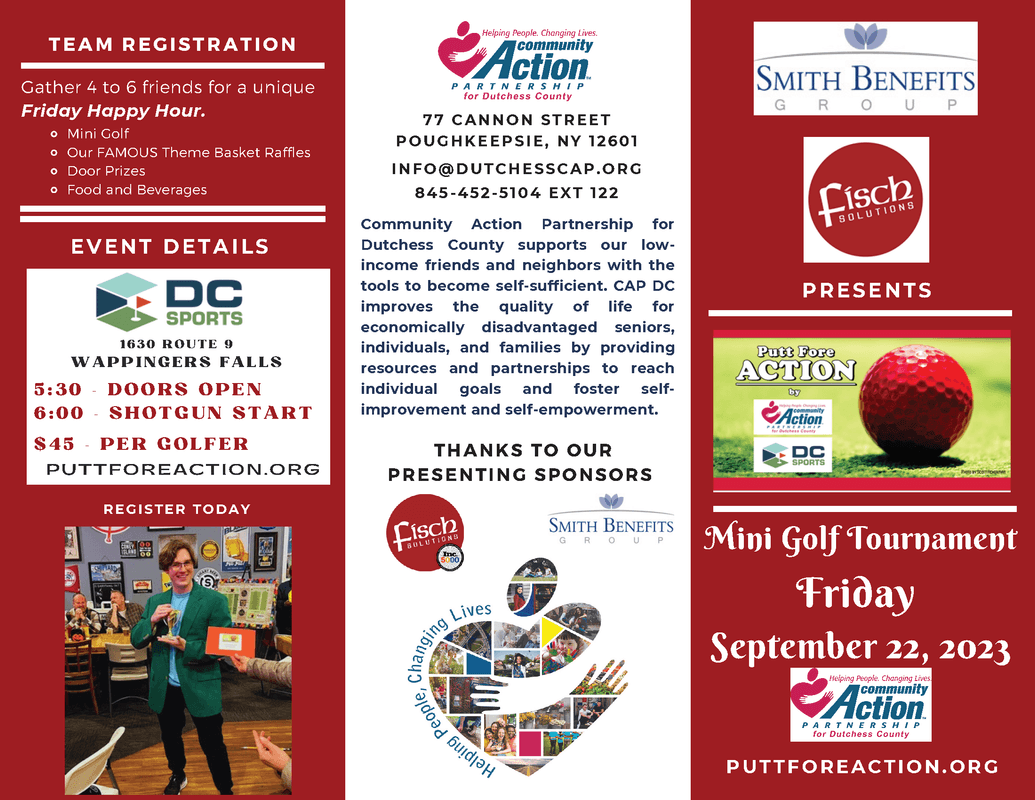 *Putt Fore ACTION *Mini Golf Tournament *DC-Sports - Wappingers Falls
Auction Donation / Raffle Prize Form
Promote your company with our legendary-themed gift baskets!
We are seeking sponsors to support the distinctive and important work of Community Action Partnership. 
Some of our baskets include a Coffee basket, a Date Night basket, a Shop till You Drop basket, a Scatch Off basket, an Inflation Reduction Basket (grocery stores or home improvements,) I Like Beer basket, Family Time basket, Bro Basket, Love My Car basket, and many many more.
Click here to download our form.
Please call Linda Eddy at 845-452-5104 x122 or email us at info@dutchesscap.org for more information.
So Much Fun Over The Years!
Putt Fore Action Fun Times!